e-Learning 2020 Conference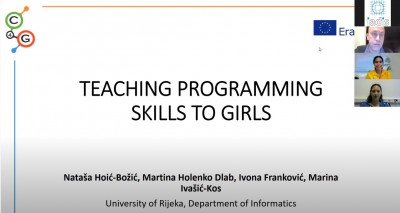 The members of the project team from UNIRI participated at the 14th International Conference on e-Learning that was held online from 21st to 25th of July 2020 using the Zoom platform. Ivona Franković presented the paper "Teaching Programming Skills to Girls". Co-authors of the paper are Nataša Hoić-Božić, Martina Holenko Dlab and Marina Ivašić-Kos.
The paper presents an innovative game based learning approach developed within the project Coding4Girls that aims to prepare and motivate girls for building programming skills.