Project presentation to the Croatian teachers of Informatics/Computer Science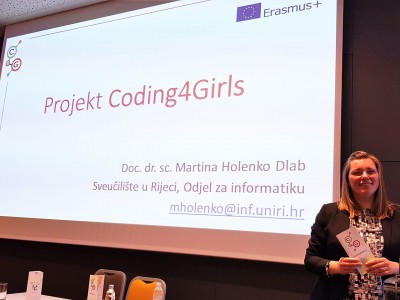 Martina Holenko Dlab (UNIRI) presented the Coding4Girls project at the national teacher training seminar "Development of teachers' competences: Evaluation and assessment" organized for Croatian teachers of Informatics/Computer Science. The seminar was held on 23rd and 24th of April 2019 and was organized by the Croatian Education and Teacher Training Agency. Around 100 teachers from all parts of Croatia participated in the seminar.
The teachers were introduced to the main objectives of the C4G project, project partners, and planned activities. They were especially interested in presented expected results which they will be able to use in their teaching practice: methodological learning framework that will combine game based learning and design thinking approach, serious game for promoting the development of programming skills among girls (and boys) in primary and secondary education, and instructional support content.
Martina Holenko Dlab also held a lecture about using games for developing programming skills. Since the main topic of this seminar for professional development of teachers was evaluation of student achievements, she presented examples of activities, games and tools that teachers can use to teach programming but also for assessment of learning objectives related to the programming.